Presidential Communications Assistant Secretary Mocha Uson continues to perform at a bar at Resorts World casino despite President Rodrigo Duterte prohibiting government officials from even merely entering a gambling casino.
A Rappler report said that a staff of Bar 360, a bar located at Resort World's ground floor, confirmed Uson's performance at the bar almost every week, with her latest performance being on September 5.
[ads2]
The bar's service ambassador confirmed Uson's participation in her group Mocha Girls' performance at the bar inside the casino via a phone call with Rappler on September 6.
The bar staff told Rappler that the group would call themselves Mocha Babes if Uson could not participate in their performances.
Rappler noted that some Facebook users even uploaded videos and photos of themselves posing with Uson.
But according to Memorandum Circular No. 6 signed by Executive Secretary Salvador Medialdea by President Duterte's authority on September 20, 2016, government officials and employees are prohibited from going to gambling casinos.
[ads1]
The memorandum circular noted that since there have been reported sightings of government officials and employees and even members of the PNP and AFP in casinos, even "the mere entry or presence of government officials and employees in a gambling casino shall be considered as conduct prejudicial to the best interest of the service, unless the same was in the performance of official duties and functions."
It also urged the heads of bureaus, department heads, offices, local governments, government owned- or –controlled corporations, the AFP and PNP to "remind and reiterate to the officials and employees under them" the laws and policies and implement the sanctions and penalties.
Rappler said that a Malacañang source revealed that Communications Secretary Martin Andanar, Uson's boss, knows her gigs with Mocha Girls and has given her permission to continue performing. However, it was not clear whether Andanar knows of Uson's performances inside casinos. Rappler noted that as of posting, Andanar has not responded to their requests for comment.
GMA News posted a screenshot of Resorts World Manila's promotional site showing Uson with the Mocha Girls, who are scheduled to perform at Bar 360 every Tuesdays from 10pm to 11pm.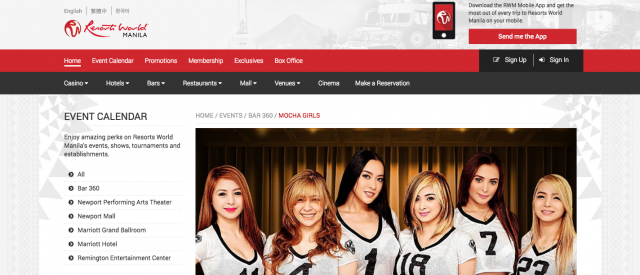 GMA News requested comments from Uson and Andanar, but they have not replied as of posting time.
A Resorts World Manila executive also released a statement regarding its entertainment providers.
"Resorts World Manila has advised its entertainment providers to strictly complain with all relevant laws and regulations," the statement read.
GMA News also talked to a staff at Bar 360 via phone call, which was cut short, before the staff managed to introduce himself.
"She's performing pero pero inaayos na ng legal department lahat… The President knows about it, supposedly," the bar staff said.
On Twitter, this screenshot of a photo of the Mocha Girls uploaded on September 5 by a Facebook user was posted.
Uson was appointed as Communications Assistant Secretary on May 8, 2017.
On September 7, Presidential Spokesperson Ernesto Abella said that the Presidential Communications Operations Office (PCOO) needs to investigate on reports that Uson still performs in a casino.
Abella says there is a need for PCOO to investigate on reports that Asst. Sec. Mocha Uson performs inside a casino. | @pia_gutierrez

— ABS-CBN News (@ABSCBNNews) September 7, 2017
Sources: ( rappler.com , gmanetwork.com )
[ads3]