The Presidential Broadcast Staff-Radio Television Malacañang (RTVM) issued an apology after accidentally livestreaming the Hollywood movie "Logan" on the Presidential Communications (Government of the Philippines) Facebook page.
[ads2]
"RTVM would like to apologize for a film that was accidentally aired live at the Presidential Communications Facebook page today, June 2, 2017.
The film was erroneously played for a few seconds by our technician that was doing a test on the equipment set-up.
We regret that this slip-up happened while we continue to work on our daily broadcast documentation and coverage of presidential engagements.
We remain committed to our mission in serving the Filipino people through news dissemination with the widest communication reach."
According to Rappler, the streaming went live around 10:23 am and managed to gather 191 live viewers before it was deleted.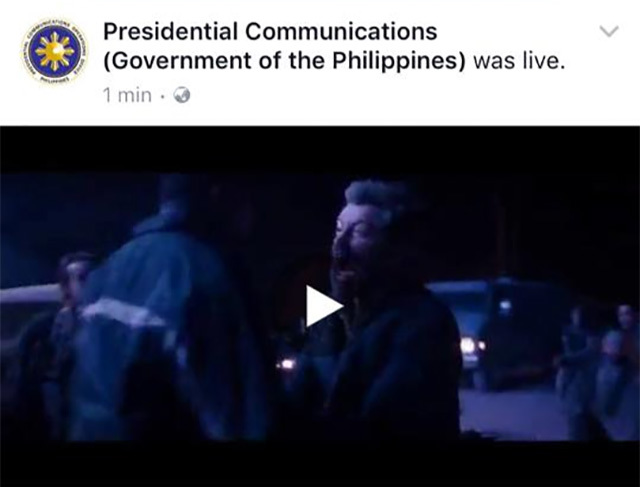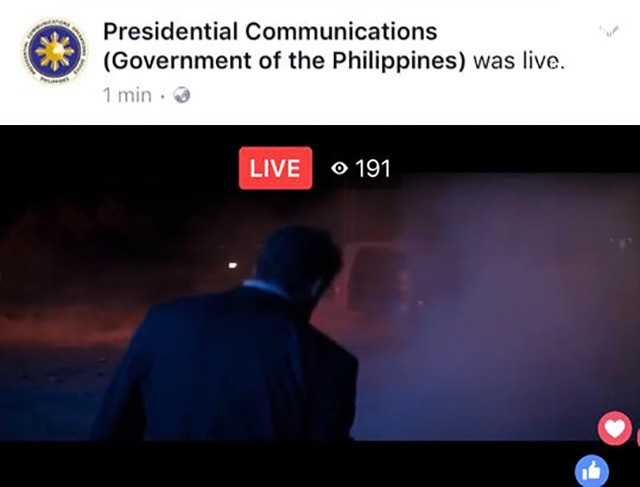 Twitter user @branreluaof managed to capture around 31 seconds of the streaming.

Hello @20thcenturyfox acc to @GovPH_PCOO the @WolverineMovie is creatively fantastic even in pirated sites. HAHAHAHHAHAHAHA pic.twitter.com/4IcS2U0m4K

— BRAN RELUAO (@branreluaof) June 2, 2017
Earlier, the Philippine News Agency apologized for using the
photo from the Vietnam War
in its Marawi-related story. PNA was also under fire for reporting fake news about how
95 UN member states
were convinced that there were no extrajudicial killings in the Philippines.
[ads1]
Communications Asec. Mocha Uson was also slammed for using the
photo of the Honduran police
while asking for prayers for Filipino soldiers in Marawi City.
#Symbolism
trended on May 31 as netizens made fun of her defense.
When asked about the fake news written by the PNA, Presidential Spokesperson Ernesto Abella distanced himself from the error and pointed to Communications Secretary Martin Andanar to answer the media's inquires. However, Andanar hid from the reporters who were waiting outside his office in Malacañang on May 30. They were told by Andanar's staff that he would not be granting interview. Rappler reported that the cameramen who stayed in front of his office door were later told that Andanar left his office using a different exit to avoid running into the media.
As for RTVM's issue, netizens were asking why there was a movie file in a government owned computer and slammed the agency for the issues of piracy and lack of file management policy for their computers.
"The question is: why do they have a movie file in a government owned computer? (Using government resources outside work is tantamount to corruption). And if it was a personal computer, are there no protocols for that? Information and data secrecy may be compromised," one netizen said.
Some could not help but bring up Uson's "symbolism" defense again.
Twitter users also weighed in on the issue.

On RTVM accidentally playing Logan:

Why does a gov't-owned computer have a pirated film in its drive?!? Bring in Derek Ramsey!

— Miguel Lizada (@mlizada) June 2, 2017
Government cannot demand "accuracy" when the national police chief spouts flipflopping statements. READ https://t.co/nE3SpRNhvt

— inday espina varona (@indayevarona) June 2, 2017
Taxpayers money are wasted in this office!! Commented on: RTVM apologizes for streaming Logan on Facebook page: https://t.co/svpIR6AeMG

— Kapuh (@KapuhKapuhnie) June 2, 2017
I do not believe. Such timing, & why that particular scene? It looks like RTVM intentionally did this to incite panic & confusion. https://t.co/JMRIQVp0bT

— Marybeth (@betseyklark) June 2, 2017

Sources: ( rapplerdotcom , rappler.com , gmanetwork.com , news.abs-cbn.com , interaksyon.com )
[ads3]