For the sake of respecting bloggers' freedom of expression, the Presidential Communications Operations Office (PCOO) removed the requirement over cursing or sharing fake news from its interim social media policy.
[ads2]
"We had to delete the requirement, limitation regarding the use of profanity because it might encroach on their freedom of speech," said PCOO Assistant Secretary Kris Ablan on August 10 in a Malacañang press briefing.
As to how his office will pick bloggers who can produce quality content, Ablan said his office "presumes" the chosen bloggers will behave.
"The presumption is those who will be accredited are law-abiding Filipino citizens who will not use profanity in their articles, who will not use fake news," he said.
With this presumption, the need to keep bloggers from cursing or spreading misinformation does not have to be expressly written in the social media policy.
"There's no need to expressly state that you're not supposed to use profanity in any of your articles," Ablan added.
However, there were issues before involving pro-Duterte bloggers, such as PCOOA Asec. Mocha Uson, who was suspended from her radio program for cursing Vice President Leni Robredo and calling her a 'liar,'  'fake news,' 'stupid,' and 'idiot.'
Blogger Rey Joseph Nieto, also known as "Thinking Pinoy," once cursed and showed his middle finger at the Malacañang Press Corps in a video.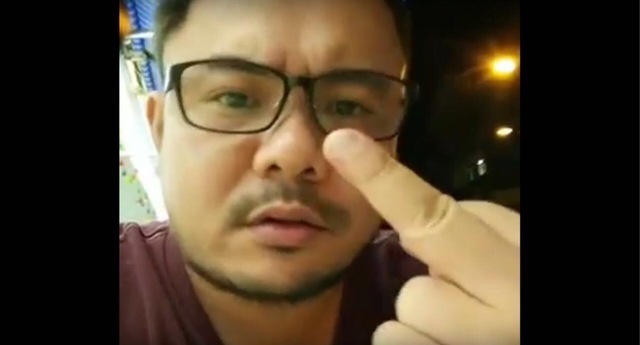 Given Uson's post as an Assistant Secretary for Social Media, it is her responsibility to accredit bloggers and come up with policies.
[ads1]
In a Rappler report, it was noted that the draft social media policy contained rules preventing accredited bloggers from using foul language. The topic was discussed during a forum that aimed to gather inputs from different sectors, some of whom wanted the bloggers to follow a code of conduct. Others wanted the PCOO to stop social media personalities from harassing and making online threats. But given the recent change in the policy, it seems that PCOO gave in to the bloggers.
"In the initial draft, we put a limitation, but when we did, including [the provision on] profanity, we were in a heated debate regarding freedom of speech so the content is free as long as it's their own opinion," Ablan said.
The PCOO also changed the requirements to accommodate more bloggers, such as the lower minimum number of followers and the output they would produce after covering the President.
Ablan said the PCOO initially had more stringent requirements, but gave in to Uson's demand of a more "populist" and "open" social media policy.
"We tried to abide by the United Nations mininum standards but with discussions with Assistant Secretary Uson and her staff, they opted for a more populist, open accreditiaton process," said Ablan.
He added that by requiring only at least 5,000 followers, more provincial bloggers can be accommodated by the accreditation policy. They also changed the initial requirement of "daily" original content to "regular" original content.
"Some objected to that because blogging is not their first job. They have day jobs and they do blogging regularly but they said, 'We can't do original content everyday. What if we do content 3 times a week? With your very high standard, we won't get accredited,'" said Ablan.
Ablan said the social media policy will run for six months, serving as its "probationary" period.
He added that despite not having stricter regulations, Ablan said he can only hope that accredited bloggers will "behave properly."
"Hopefully, once they get accredited, they realize the importance of the accreditation they receive and they behave properly," he said.
In February, bloggers seeking accreditation from the Palace insisted that their use of profanity not be regulated because that is how they are able to obtain the kind of reach that they have.
"If traditional media is the very proper East Coast, we're the Wild West where [the] reason why we have such a wild reach is precisely because we are a little freer in our speech," lawyer Trixie Cruz-Angeles said, defending the bloggers.
She said that bloggers "precisely have their reach because we don't observe the right conduct."
Thinking Pinoy also questioned the PCOO's original requirement on how the office would be able to determine whether the blogger's language was offensive or not.
"Anong basehan para maging offensive, inflammatory, or provocative ang isang lenggwahe? Dahil po para sa aming mga karaniwang tao lang, maraming mga salita sa amin ay hindi offensive, inflammatory, or provocative pero para sa balat sibuyas ay offensive, inflammatory, at provocative. So ang tanong po, sino po ang magde-decide kung ano ang #disente?" TP asked in his video message.
Netizens react
After news erupted about the social media policy in accrediting bloggers, netizens reacted to their requirements.
The British Fashion Council has higher standards than the PCOO.
"Social media Practitioner" accreditation: WHO DID IT BETTER?

Andanar-Uson Reign of Error or London Fashion Week? pic.twitter.com/eEi84WZMPz

— Tonyo Cruz (@tonyocruz) August 9, 2017
More Mochas then?
Social media practitioner?! Why is nobody talking about this so much?! Are you going to tolerate more Mochas?! https://t.co/93jVBHDrbC

— Patricia Valdivieso (@patvaldivieso_) August 10, 2017
"What a joke."
Wtf is this bullshit "Social Media Practitioner Accreditation" what a joke.

— Raposas KR (@konradproject) August 9, 2017
Will this legitimize fake news?
This "Interim Social Media Practitioner Accreditation" is practically PCOO's way of legitimizing propaganda and fake news

— Perry (@bienperry) August 9, 2017
One Twitter user computed how many more followers she needs to reach PCOO's minimum requirement.
Tweeps I need 2,233 more followers to be able to apply for social media accreditation pic.twitter.com/Fj62qmaHEA

— Mme Press Secretary (@noelledeg) August 9, 2017
Another one gave this analogy: "Giving social media people media accreditation is like giving out drivers licenses to people who can't drive."
Giving social media people media accreditation is like giving out drivers licenses to people who can't drive.

— Diana Lhyd Suelto (@dianalhyd) August 10, 2017
Sources: ( rappler.com , fhm.com.ph )
[ads3]